From London to Hong Kong. Hong Kong to Brisbane.I snivel and cough my way over the tectonic fault lines of planet earth.  
24 hours later Bill the driver meets me and the famous Haigh family at Brisbane and  says  the words I need to hear after a long haul flight with flu and jetlag   "just a two and half hour drive".
He reads  the disappointment on my face as he drops of  British Author Matt Haig and his family at the  swish Elementis Hotel.   "The Atlantic is very good" he says. It's 2am on Thursday 2nd August  and we arrive in pitch darkness. My head is swimming. I can't sleep  but as light arrives I get to see The Atlantic.Only I didn' realise there was a bedroom.
The atlantic hotel is  five minutes from an ocean of the same name.
Four hours sleep. Then I'm on stage at The Byron Bay Writers Festival with Shastra Deo (centre) winner of  the Thomas Shapcott Gold medal for poetry and moderator  Bri Lee.
Bri Lee has just written her memoir called Egg Shell Skull    Lee began her first day of work at the Queensland District Court as a bright-eyed judge's associate. Two years later she was back as the complainant in her own case.
Afterwards I swim in The Atlantic and I tell her (The Atlantic) that I'm staying in a hotel of the same name. She isn't impressed. The seagulls have been together for some time and either their relationship has reached the sweet spot where they needn't speak to each other OR their relationship isn't working and they are wondering how to tell the kids back at the nest.
Post swim I fall asleep. It's the jet lag. I'm late  for the authors gathering tonight at  a place called The Surfer.  But it's a fashionable lateness although I am miffed to miss the speeches.  Luckily I am engaged for much of the night by this woman.
I want her to have read Jay Griffith's Wild. She hasn't.  She has that same zest for the present, the same air of frankness and openness. It's powerful stuff. The next day falls from the last and it's Friday  3rd august:  The Byron Writers festival is in a large clearing just out of town. There are big tents and little tents and a green room and it's absolutely perfect. All a writers festival need do is show love for its authors and that will radiate to the audience and gather an energy of its own. That energy is here! 
I meet Mariam again and present an idea to her: that we walk Ethiopia. I don't know rural  Ethiopia. I want to meet the mothers in the villages whose babies were stolen and taken to Europe and America but also I want a  journey of self discovery in the country I was stolen from. Mariam lancewood guarentees me the power of  surviving out in the wild.
Early afternoon I'm on stage with  Courtney Sina Meredith a brilliant Maori poet.
Come night time and I am on stage with Richard Fidler for a live event for ABC (Like the BBC it is a national broadcaster of Australia). The show is called Conversations.
It's the  major long form radio broadcast in the country. Not unlike Desert Island Discs for the way it is part of the culture. This time it is in Byron Bay Theatre  in the centre of this beautiful town. I research the programme and I'm  ready to be as present as I can be.
It's  sold out.  I am whisked away at the end.  I am not sleeping well so it's good that the next day  Saturday 4th August  is a day off!   .
And saturday night is when the authors hang out  at The Atlantic. My photographs dont do  justice to this beautiful beautiful hotel. It's a cross between The White Elephant in Nantucket and Shoreditch House in East London.  Tonight it's looking its best
So I  connect with Poet Laureate for New Zealand: Selina Tusitala Marsh.'Selina's tokotoko – 'Tusitala' – is carved out of maire. It is splendidly crowned with a fue or Samoan orator's fly whisk – and clearer of the air of any unsympathetic spirits.
We met a few days ago.  We have a mutual friend in author  Jackie Kay. Less than a month ago Selina met Barack Obama. How cool is that. 
The next mornin,  Sunday 5th August   my final gig at Byron Bay Festival and it's good.
It's really good. . It always moves me when an audience is moved to stand.
Goodbye Byron Bay Festival you absolute beauty. And Hello Newcastle.  I   wake to this view outside my hotel room. It's  Monday 6th August. Newcastle is a mining city and this port exports coal to China.
Monday daytime there's an interview on Newcastle radio. Notice the state of the art desk. Notice the interviewer is standing. He presses a buttom and the entire desk lowers to seating level.
Monday evening August 6th  I read poems and have a discussion at Newcastle Library.
Hyeonseo Lee did the same.   Her memoir is caled  The girl with seven names. She fled North Korea and risked her lfe many times.  She told of living in a country with no internet, public executions, where  people can't meet in public. Last month shee had a private meeting with Donald Trump. Her first ever public speaking engagement was a TED Talk. Oprah Winfrey said it was  ' The most rivetting TED talk ever' .
Tuesday August 7th: There's been a lot of press but this one was at my breakfast table
One last look at Newcastle for Hyeonseo Lee and me.
Beautiful isn't it. Newcastle. 
There's wild cockatiels too.
The freedom of birds
And so we fly  onwards to Melbourne where I'm taken to QT Hotel.  My room is 308.
Hotel rooms give me design ideas for the apartment of my future.
Wednesday August 8th. It's gonna be a long day.   I wake at 6am and at 9am
I'm  giving the Keynote Address  at Footscray Arts Centre in Melbourne at  The Centre for Excellence in Child and Family Welfare Conference.
I stay to watch. Sissy of Koorie Youth Council in the centre says  "Young aboriginal peoples are asked to trust Chldren's Services which were actually conceived to destroy them"
I meet  Eleni. Her story of care published by Penguin. There are more of us now than ever.
And then I travel for ninety minutes to the Town of Shepperton and while in the car we listen to the national broadcast  on ABC recorded at Byron Bay.  Click on the photo below to hear it.
We arrive in Shepperton at the  hotel. In fact this is the house next to the hotel and we are the last ever guests. The hotel owner will transform it into her home.
very nice
Today  is international Day of Cats so its purrfect to announce  that TS Eliot Estate have offered me the opportunity to voice Old Pussum's book of practical cats.
I'm immediately taken to Haven. It is a privately run space for young people. I am seeing how it works. And it works.
Haven works on the basis that the best practises of a good family are a template for community action for young people. It seems obvious but many of our instututions are unable to counter the word love and fun into a system they call 'care'.
Haven are unafraid of those words or actions. I am taken onwards to Trobe university for my only  event in Shepperton. Like I say: Long day.
And I made the Shepparton news. Who calcultes  the odds because apparently
The next day Thursday 9th August  I travel two hours  to Bendigo writers festival for the final run of events.  There are three radio interviews. One live one. 
Friday 10th  August:  It's coincidental that panapticon is the exact definition of the hotel I am staying in.  Moving along. The first public event in Bendigo is at a venue built inside a Panopticon. The only plce I have heard of Panopticon is the title of my friend Jenni Fagan's book of the same name which topped the New York Bestseller list.
. That's me on stage.
And then a book signing and local TV interview
On other matters it's August 10th. It's the anniversary of the death of Tony Wilson. Here's an interview we did in late 1980's Manchester.  He has given me the gift of a recorded memory of my existance in lieu of family.  And I will be eternally grateful. But I wish I was more grateful to him when he was alive. I never realised how much he supported me.
Saturday August 11th. My play Something Dark has sold out. It's a dramatic reading  followed by a Q and A. It's a total success.  
I really want to tour this in  Australia. It is ready made and ready to roll.
Sunday 12th August. Last night was a late one but todays starts early. It's 10am I am in front of a live audience at The Capital Theatre for an interview with Paul Barclay for his national broadcast which will happen later in the year.
And the final reading at 12.30pm Sunday 12th August.  It's a good reading in a small theatre.  That's it. I'm done. I have given one hundred percent to every interview and every performance.
On Monday I fly back to England. I arrive back on Tuesday or Wednesday I'm not sure when exactly. I'm tired but not beat.  A friend of mine has got sober after many years of alcohol abuse and that makes me happy.  Another friend has travelled abroad and is happy and that makes me happy cause she needed the break. Another friend stayed at my place while I've been away cause she needs respite and that has made me really happy.This is me backstage with the audience on screen at Capitol Theatre.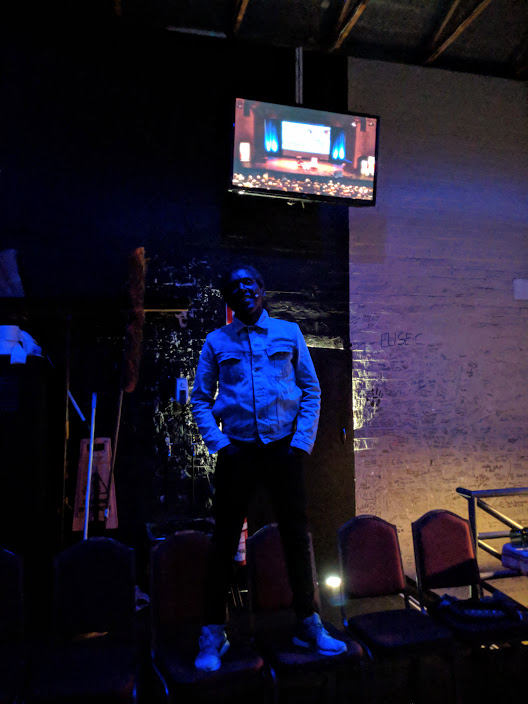 Friends make me happy even if I am far away from them.  I m not a bad friend  and that makes me happy.  Making people happy makes me happy.    But as the poet laureate of new Zealand said to Miriam 'There's something missing'. She may be right.  She may be wrong. Either way I shalln't worry.