There are a couple of ways out of Greenwich station. If you go by Waller way you'll see my latest Landmark poem on the hoardings.   Walk two hundred yards along  the poem and you'll come to MVMENT Café. You can see it in the picture on the left above the hoardings.    On  top of MVMENT Café you'll there's a giant structure.
The words in the structure are  from my morning tweet. "This is the house. This is the path. This is the gate. This is the opening. This is morning. This is a person passing. This is eye con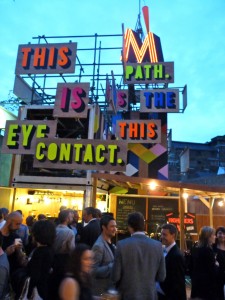 tact"
Each day my morning tweets  are  written on the café menu board. The launch party was buzzing  last night with legendary DJ Eddie Piller.  I read the poem too. It's called Shipping Good.
I thank  Morag Myerscough for commissioning the piece and   Martyn Evans from Cathedral Group  for his creative spirit,  commitment and  passion,  and for backing me.  A new landmark poem is born.