From a distance I've respected the skill of actors – in the way a poet respects a great teacher but I hadn't realised the sheer work ethic. Every day for the past five weeks between 10am and 6pm, (and from 10am to 10pm on some days) I've been rehearsing ROAD by Jim Cartwright at The Royal Court Theatre. The director is  Olivier award winning John Tiffany. The movement director is Jonathan Watkins, The Artistic director of The Royal Court Theatre is Vicky Featherstone.  Here  we all are. The ensemble cast: Michelle Fairley, Mark Hadfield, Faye Marsay, Mike Noble, Dan Parr, Lemn Sissay, June Watson, Liz White and Shane Zaza.
Tonight is the first preview. There are previews each night until press night on 28th July.  The play will be on each night until Mid September.  Road is the story of one night on one road in a small Lancashire town in the mid nineteen eighties. That is exactly when I lived there. I didn't fit in then and I don't fit in now. So I'm perfectly placed. Theatre is full of misfits:  Outsiders looking in. Insiders looking out.  Acting is self centred and selfless in equal measure.  Isn't all art?  I wouldn't want to be anywhere else in the world. After all it's where I am from.
My character in ROAD  is Scullery. He  was played famously by Ian Dury.  But Ian Dury I am not.   Edward Tudor Pole also played the part. Edward Tudor Pole I am not.    ROAD is full of people I grew up with. Their children where in the  children's homes with me.   For a time  this was my world. Pic above.  It is an honour to revist through the poetic political and deeply personal writing of Jim Cartwright.   The actors have been nurturing to me in the way  lions would to a  cat who'd wandered into their pride.    I am loving it. I am loving them.  I am loving this.
There's a lot of other stuff going on in the background.  I've  a new series on BBC Radio four which was commissioned yesterday.  Some exciting TV stuff for Ten Pieces presented with  Naomi Wilkinson.  There's. a public art poem going up in Old Trafford on Saturday.  There's a concerto coming up at The Proms inspired by a poem of mine called Spark Catchers.  I received my paperback from Canongate Books through the post today.
A painting yours truly  on display at The National Portrait gallery is advertised in  tube stations in London…..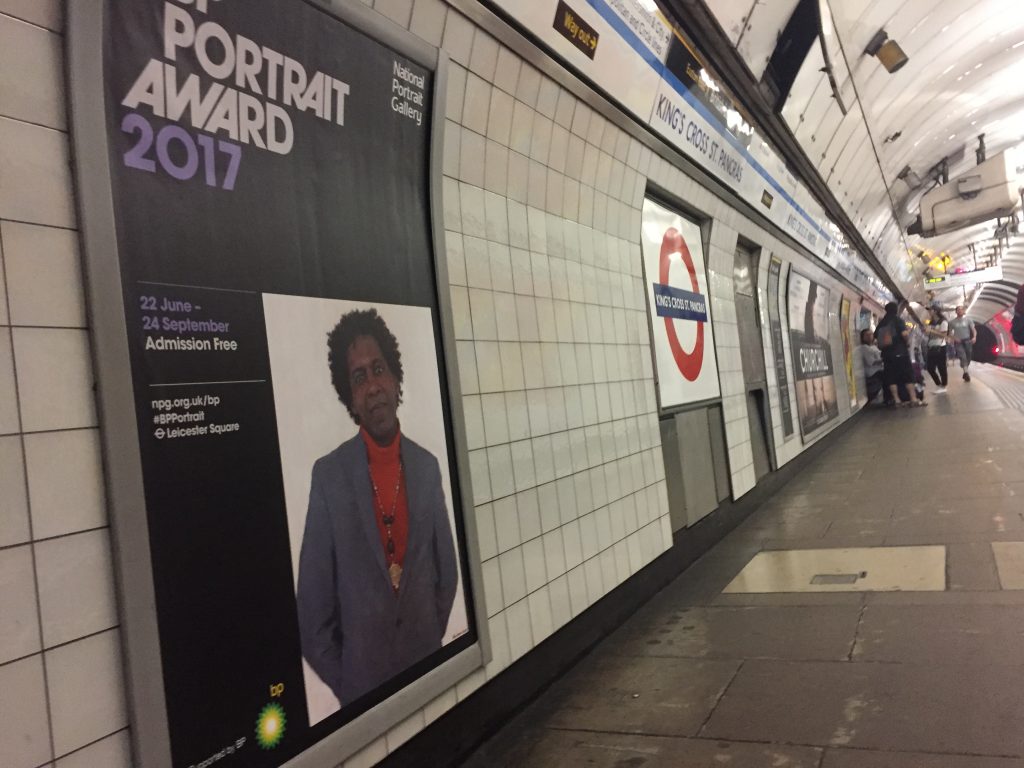 The other day I did a Letters Live with some incredible actors including Amanda Babbington, Alan Carr, NickMoran,  Zawe Ashton, John Simms and more.  Seeyou next time.