I've been Canterbury's Poet Laureate for twelve months of a thirty six month residency.  Thanks to Wise Words Festival and The Marlowe Theatre. The laureateship started in May 2017 with Warrior Poets, an exhibition of poems by young people in care. This artwork for the exhibition is by Canterbury artist Greg Stobbs. This artwork is called Many Homes.
For Warrior Poets we transformed The Marlowe Studio theatre into an exhibition space. This song is a poem called STRONG  by The Warrior Poets transformed into song by Canterbury musician Richard Navarro. The video covers the exhibition.
This happened a few weeks ago.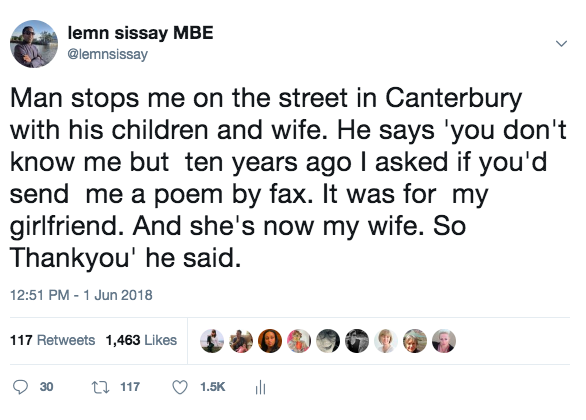 Onwards then to  a series of talks curated by myself at The Marlowe Studio. On May 6th 2017  The Forgiveness Project came to the Marlowe.  I interviewed  Jacob Dunne. He caused the death of a man with one punch and was convicted for it.  I also interviewed the mother of the boy who died. Two incredible people.
On 6th December 2017 I held an in-conversation at The Marlowe with rising star comedian Sophie Willan  exploring her incredible life story &  the resilience of those who are care experienced. .
On 29th March 2018 an  in Conversation with the Scottish Makar ( poet Laureate of Scotland) Jackie Kay exploring  resilience  and the search for birth family and her incredible story.  Jackie Kay has performed all over the world and loved this event in particular.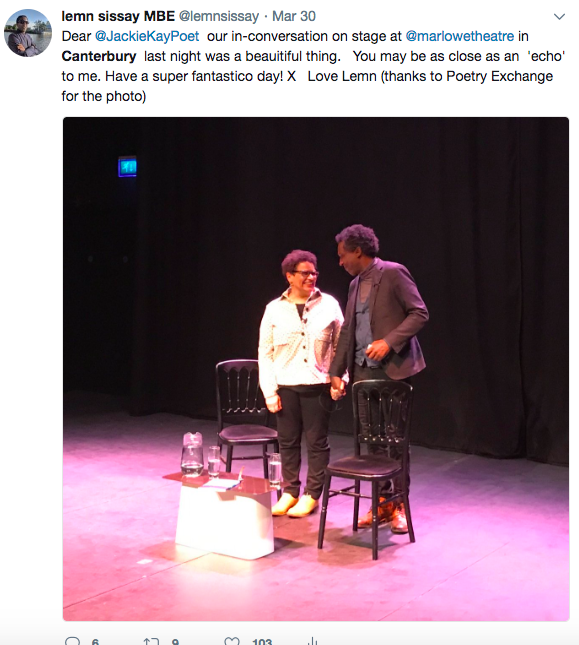 On 5 Dec 17 I performed Something Dark, my one man play,  at Marlowe Studio Theatre.
"Although this show at The Marlowe's Studio is 'just' a reading, not a performance it's engaging, atmospheric and compelling. Honest and compassionate, he reveals his soul, and in the process, reveals some of the truths about family." Francesca Baker.
On 30th March 18 I performed 'Origins'  a  comic and poetic look at orphans and foster children in popular culture, based on my  Radio 4 series, Origin Stories. The Conversations and performances were intimate and powerful  and all themed on the care system.
On 9 June 18   I  performed  A poem for Canterbury 'Cantuarian'  accompanied by the Canterbury Cathedral choristers under the direction of David Flood.    This concert was the first such collaboration between the Cathedral and Marlowe Theatre.
Cantuarian,  is told from the perspective of the River Stour.  The river a constant presence within the city across the ages,  a silent witness to the city, its inhabitants, its history. 
An audience of 450 filled the knave.  It  was a diverse mix of poetry lovers, the Cathedral audience, people who know my work, as well as teachers we had worked with and the family and friends of the other performers. School choirs, community choirs all sang songsin celerbation of The River. Part of The Canterbury Cathedral's One Voice campaign. 
I have been mentoring four young poets. They wrote  their poems in celebration of  The River Stour which flows through Canterbury. In rehearsal  they found their stance.
And they rehearsed like champions. 
And when the audience came they performed like champions.
As the concert came to a close narrated by Andrew Dawson   an invited audience walked through the city to the Friars Bridge by Marlowe Theatre.  Thanks to a major gift from a Marlowe Donor a permanent installation of Cantuarian was launched. Thanks to  projectionist, Howard Griffin, from the University of Kent, Marlowe Theatre and Wise Words.    Can you see the Moon under The Bridge.  It's  a permanent addition to the magic of Canterbury
Canterbury is  a beautiful Canvas for Poetry: I wrote four  poems that reflect the city across time and place. The Citizens of Canterbury made this video of Cantuarian.
Marlowe is a city of Coffee Houses. It seemed right to write a poetry series for them. I wrote five Morning Tweet poems for five coffee houses:  Water Lane,  Waterstones, Lily's, Boho and  The Marlowe Green Room. They will be erected in the next year.
The innaugral  BBC arts programme Dominic King Show featured The Laureatship in Water Lane Coffee Shop.
An impromptu reading on The High Street
Mentorship and training and young people in care in schools:  From March to April 2018  six  young poets from Wise Words (Rough-Cut Collective)  spent three days, supported by  poetry therapist Victoria Field,Marlowe Literary Associate James Baldwin and me, to gain skills and processes  to upport them delivering workshops for young people who have lived within the care system. It was a success. They delivered a five week in-school poetry programme for 26 looked after children from 3 schools across the District.  The project culminated in a poetry open mic hosted with the Marlowe's KIT. Four students went up two sets in English as a direct result of this project.
"I loved every minute of it. It helped me get rid of my mixed emotions, feel fresh and free. I wish we could do this every week." (student)
On 8th  JAN 2018  I delivered a Local Writer Development | Masterclass:   It was the first public workshop at The Kit.  This was for 25 local writers and, inspired by Lemn's own process of writing his poems for Canterbury.
The University of Kent in Canterbury asked me to read at The Gulbenkian Cafe on 28th February 2018.
The poets were so good at The Cathedral event that on  July 18 they  featured on Dominic Kings BBC Radio arts show
In May 2017 at Wisewords Festival (pic below)  I inspired a group of Caterbury residents to put on the first Christmas Dinner in Canterbury  for 20 Care Leavers.
They set up a facebook page & met again in October and fortnightly until December 25th.   Within 10 weeks the
steering group found a venue, chef, volunteers,  presents, funds, food, presents,  transport, volunteers, funds  and guests.     Now THAT is community action.  It was held at the stunning Conquest House. This video painsts the picture.
O April 18 I  judged a poetry competition for The Kentish Gazette.
A small selection of press and radio.
Canterbury gets a poet laureate
Canterbury Poet Laureate Plans Christmas
Canterbury's Poet Laureate wins damages for abuse suffered in care
Canterbury's Poet Laureate has lots planned for the cit
Canterbury's Laureate Unveils Poem
On Thursday19th July 2018  Vice Chancellor of University of Kent Karen Cox  bestowed upon me an Honorary Doctorate.
In April 2018 The Observer  covered a  story on myself and ceredited Caterbury, kent and the Cathedral   
     Later in 2018 I featured Dominic King's BBC Kent Arts show on BBC's Pick of The Week. Thankyou to Beth Cuenco of Wise Words and to The Marlowe Theatre and to the amazing people of Canterbury.  The second year of the laureateship begins in November 2018.